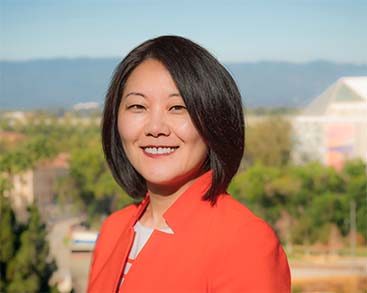 Jie Zhu
Jie Zhu is a CPA and a Partner with Petrinovich Pugh & Company, LLP (PP&Co). Jie relocated to the United States from Beijing in 1996. She joined the firm in 1999, becoming a partner in 2017. Jie is Chair of PP&Co's International Department and the Education Committee. Jie is very active in the local community. Notably, in 2019 Jie was named by the Silicon Valley Business Journal to their esteemed list of Women Of Influence.  Jie is fluent in both Mandarin Chinese and English.
As a partner with PP&Co, Jie's specialties include the following: assisting international businesses with accounting and tax needs; helping international investors with tax planning and tax compliance; pre-immigration tax planning for EB-5 investors and other interested parties; income tax planning and compliance for domestic business entities and individuals; and estate and gift tax planning and compliance.
As an active member of PrimeGlobal, the third largest international accounting association in the world, Jie is in a unique position to assist clients with International issues. With over 320 firms in 90 countries, PrimeGlobal provides the necessary resources to serve clients wherever they choose to live and/or do business. The knowledge and skills of Jie and her International team, paired with the connections of PrimeGlobal, make an unbeatable combination to meet your international needs.
As well as being a CPA, Jie holds a Certificate in US International Tax and Personal Financial Specialist Credential from the American Institute of Certified Public Accountants (AICPA).
---
We asked…Jie Answered
What is the most interesting/fascinating aspect of International Tax?
I am intrigued by the diversity in cultures that we deal with, and the complexity of the tax laws related to international tax. I am constantly learning new things about myself and others, and the complex laws continue to challenge me to gain more knowledge. It is that interest and enthusiasm that drive my commitment to provide stellar service to PP&Co's International clients.
What advice can you give to women trying to excel in a career in a predominately male profession?
Anything in life worth having takes great effort and resolve.  The same is true of being a woman in a male-dominated profession. It's not an easy ride.  Trust in yourself and your instincts and don't believe that you have to think, believe, or behave like someone else – or like a man – to be successful.
How do you measure success?
If I am being true to myself, enjoying my work, my family, and my surroundings, that is success.  I say, be independent and be happy and you are successful.
---
Professional Affiliations
American Institute of Certified Public Accountants
California Society of Certified Public Accountants
Society of Trust and Estate Practitioners
Asian Real Estate Association of America , Silicon Valley Chapter, Member, Board of Directors
ProVisors Silicon Valley Women's Affinity Group, Member, Executive Committee
Community Activities
SVI Academy, Business Mentor
US Market Access, Business Mentor
Parisi House on the Hill, Finance Committee
American Alliance of International Arts, Cultures & Education, Member, Board of Directors