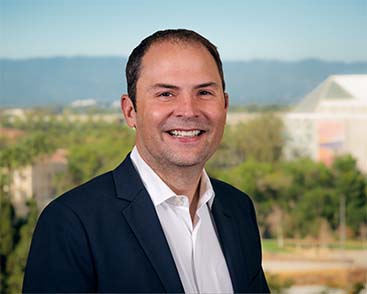 Chris Young
Chris Young is a partner with Petrinovich Pugh & Company, LLP (PP&Co). Chris has been with PP&Co since 2003, becoming a partner in 2017. Chris received his Bachelor of Arts degree in Economics from the University of Puget Sound; whereupon he returned to the Bay Area to obtain a Master of Science degree in Accounting at San Jose State University. He has extensive experience working with high-net-worth individuals and privately held companies.
As a partner at PP&Co, Chris' specialties include the preparation of reviewed and audited financial statements, income tax returns, income tax planning and forecasting, and performance of interim controller services for corporations, partnerships, and organizations. He is a founding member of the firm's Real Estate practice group, co-chairs the firm's Audit Committee, and directs the firm's Client Accounting Services (CAS) practice.
Chris' Bay Area upbringing has led him, like so many other Silicon Valley natives, to an interest in technology and the start-up culture. He was drawn to attestation and compliance because it provides the unique opportunity to become intimately familiar with the inner workings of a client's finances; thus, helping to clarify their goals and define the best strategies toward achieving them.
---
We asked…Chris Answered
What is the most rewarding aspect of being a Partner at the Firm?
I've forged so many amazing relationships over the years – with coworkers, clients and the community. I am a Partner today because I've had the opportunity to cultivate and learn from those relationships as a member of the PP&Co family. It's an honor to work collaboratively with such intelligent and interesting people.
You grew up in the Bay Area…why have you remained?
The Bay Area has changed so much, and it has been really cool to see the evolution of business and wealth. Having witnessed this firsthand provides me with a deep understanding of my clients and their financial situations. The Bay Area is home. My family is here, my wife's family is here, and I can't imagine raising our own family anywhere else.
How do you measure success?
I measure success by a feeling of fulfillment. If, at the end of the day, I can step away from my desk knowing that I have helped make someone's life a little easier – helped to make their business run a little smoother – I feel good about what I have accomplished. Knowing that what I do contributes to a client's feelings of reassurance…to me, that is success.
---
Professional Affiliations
American Institute of Certified Public Accountants
California Society of Certified Public Accountants
Community Activities
American Advertising Federation of Silicon Valley, Treasurer
49ers Academy, Treasurer