Inspiration For Breakfast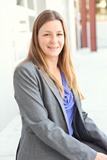 By Sarah Johnston, Manager, Petrinovich Pugh & Company, LLP.
I spent an inspirational Friday morning last week at the Project Cornerstone Asset Champions Breakfast.  The event was held to honor those committed to making Silicon Valley a better place for our youth.  As I looked around the room, I noted a broad range of attendees, which included law enforcement, elected officials, teachers, parents, community volunteers, and even some students (the latter, no doubt excited to get out of school for the morning).  I was privileged to be a part of this special group of people dedicated to building positive relationships with youth and helping them gain the skills they need to become successful adults.  
Courtney Macavinta, delivering an emotionally charged keynote address, demonstrated how one person's belief in her as a child entirely transformed her life from one of hardship to being able to break the cycle of domestic violence, mend fractured relationships and build a successful career helping others do the same.  
One of my proudest moments was watching PP&Co client TeenForce, headed by John Hogan, accept the Community Values Youth award. John and his staff work tirelessly to help youth gain valuable skills, self-confidence, and the drive to advance their education as they realize the important role they play in our community. As a board member of TeenForce and a supporter of Project Cornerstone in my children's school, I was thrilled to be part of this special morning.   
Click here for more on the event.