2014 Clays Shoot Out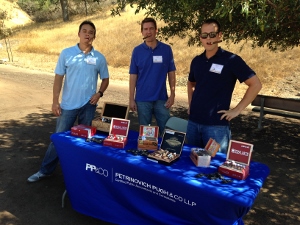 Last Wednesday, August 27th, marked our 5th Annual Clays Shoot Out. As ever, the event took place at Coyote Valley Sporting Clays in Morgan Hill. The Shoot Out was co-sponsored by McSherry & Hudson, an independent, full-service insurance brokerage firm specializing in insurance and risk management for the construction and agriculture industries. Like fine wine, this event improves with age, and we marked our 5th year by hosting more than 60 participants.
The weather was warm and clear, perfect for the task at hand. Commonly referred to as 'golf with a shotgun', shooters are placed in groups and assigned to different target stations – this gives a whole new meaning to 'shotgun start'. They then rotate from station to station until they have completed each. On the course, they are presented with a wide variety of targets that simulate the flight path of different game species. Beginning at 4 p.m., 12 groups navigated the shooting stations in pursuit of glory.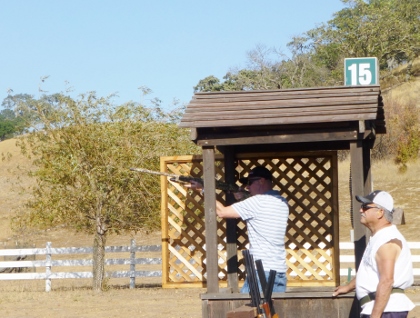 Traditionally, while one member of the group is taking aim, the others are taking a breather – waiting for the shooter to complete his/her turn at pulverizing the clays. This year, to engage those waiting we added a few new elements to the festivities. Attendees were treated to a cigar bar at station 15, featuring cigars from Mission Pipe Shop and custom cutters. At stations 11 and 18, guests could hone their hand-eye coordination at a bean-bag toss and faux beer pong table respectively. Successful participants were awarded raffle tickets. Drawing prizes included an Aculon laser rangefinder, a Ravpower portable charger, and an Apple iPod Shuffle.
Last year marked the first time that a woman joined us for the shoot. We had hoped that she would lead the way for more women to attend…and lead the way she did. This year we were thrilled to be joined by 5 ladies, clearly Annie Oakley descendants, and they shot like champions! Thanks, ladies, for joining us and we hope you'll come out again next year.
Following completion of the course, the 60 men and women sat down to a delicious barbecue dinner, complete with salad, tri tip, smoked ribs, and garlic bread. They washed it all down with Madorom Camouflage, Rombauer Chardonnay, beer and soft drinks – all perfect compliments to the food and perfect foils to the heat of the day. For dessert the chef provided thick slices of generously iced red velvet cake. As the last of the cake disappeared, so too did the sun, over the horizon, treating guests to a captivating sunset.
The PP&Co Construction Practice Group (CPG), designed to understand and address the current and future needs of the construction industry, was responsible for coordinating the event. The CPG helps construction companies manage financial reporting requirements for banks and insurance companies so the contractors can focus on the work they were designed to do.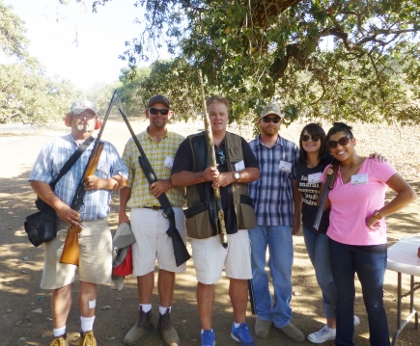 The CPG hosts events throughout the year. Our experienced Group recognizes the dedication and hard work of construction industry professionals and designs events incorporating a spirit of enjoyment and adventure. The recent Shoot Outis a byproduct of this philosophy – an event at which attendees can enjoy the company of their peers in an environment conducive to sportsmanship and camaraderie.
Thanks so much to those who attended – new and returning. It is you who make this event a rousing success and we hope you'll all be back next year. For more information on this and upcoming events, please contact Andrew Bader, CPG Chair, at abader@ppandco.com , or (408) 287-7911.