It's Official – PP&Co Santa Cruz Practice Expansion is Complete
On Tuesday, November 1st, we officially expanded our Santa Cruz office, by combining the Santa Cruz office of Armanino with our existing Santa Cruz operation.  Since our philosophies and dedication to service are the same, we are enjoying a smooth transition.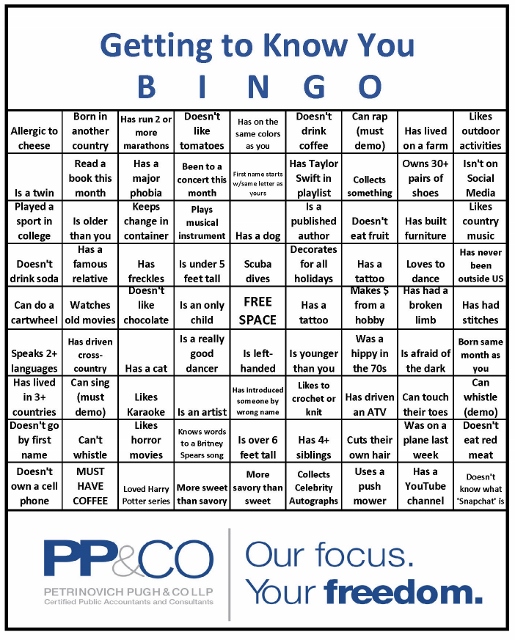 To help staff in both our San Jose and Santa Cruz offices get better acquainted, the Partners hosted a mixer at the Santa Cruz Yacht Club, where we played 'Getting to Know You' Bingo to learn more about each other. The object of the game is to find someone who matches up with one of the descriptors in the squares – descriptors like 'is a twin' and 'likes to scuba dive' and 'cuts their own hair.' The game was a great low pressure way for people to circulate and ask questions, while also having a good time. Prizes were awarded for the first 3 Bingos and for the most squares completed. Natural curiosity, fueled by a touch of healthy competition, made the game a huge success. By the end, more than a few people had discovered kindred spirits.
Those who joined us from the Armanino Santa Cruz tax practice include tax partner Frank Minuti, managers Martita Emde and Cara Fite, supervising senior Jennifer Gandrup, staff accountant Deval Thacker, and bookkeeper Suzy Marini. PP&Co has now combined the two Santa Cruz office locations and will operate from 740 Front Street, Suite 365, Santa Cruz, CA 95060. This is the suite of offices that the Armanino Santa Cruz practice occupied prior to the expansion.
The lights are on, the new computers are connected, and the Wi-Fi is working, all within the first two weeks – we'll count this our first joint victory. The Santa Cruz staff is training on new software and systems, and will be ready to continue to tackle the tax compliance issues facing the seaside city come tax season.
It was a natural progression to seek additional resources to serve our expanding practice and the needs of the community, as PP&Co has received a tremendous reception in the Santa Cruz community and our practice has continued to grow.  With the combined knowledge and depth of experience from both teams, clients will benefit from regional firm resources and expertise, while continuing to receive the dedicated attention of a local firm.
We're officially open for business in the new location, so if you're in the area, please feel free to stop by and say "Hello." As David Doolin (the partner who oversees the Santa Cruz office) said, "We look forward to continuing to expand our presence in the community, and to serving both the long standing clients and their families, and emerging businesses with the same level of engagement we have provided our clients for 65 years."
Petrinovich Pugh and Company, LLP was founded in San Jose in 1951. It is a full-service accounting firm that has provided planning, consulting and compliance services to small and medium-sized, privately held companies, multi-generational family-owned businesses, partnerships, organizations, and high net worth individuals for 65 years. The Firm has consistently been named one of the Bay Area's 125 Best Places to Work in the 25-50 employee category, as ranked annually by the Silicon Valley/San Jose Business Journal and San Francisco Business Times. The firm also has the distinction of being named one of the 100 Best Accounting Firms to Work For in the Nation, by Accounting Today magazine, for multiple years.
PP&Co headquarters is located in downtown San Jose – in the Comerica Bank building, 333 W. Santa Clara Street, Suite 830, San Jose, CA 95113. For more information, please contact Saralyn Winslow, Marketing Coordinator, at swinslow@ppandco.com, or via telephone at (408) 287-7911.